The Christmas supplies been put away. On to a new year and new goals. If you're like me, you may have neglected your Christmas wrapping paper supplies. There are always those last minute gifts to wrap, and so somehow wrapping paper is the last item to find a home. In my house, the pre-Christmas wrapping frenzy means a post-Christmas mess. No one wants to be greeted with bows, ribbons, and tissue paper shoved in and forgotten (not an ideal way to start off another round of holiday merriment).
I keep my Christmas wrapping supplies separate from my everyday wrapping. Keeping Christmas supplies in their own container means I can store these goodies away for the other 11 months of the year. My birthday wrapping supplies (including my organized ribbons) stay front and center since I have limited storage space and I access these supplies all year long.
No matter how you organize and store your wrapping paper, there is a wide range of awe-inspiring examples. Let's just take a minute to admire a few examples since my under-the-bed container is not nearly as glamorous.
I can't quite imagine having enough space to house a wrapping station, but the above eye candy is pretty fun to drool over. Back to reality… cleaning out my own wrapping paper mess.
This project is perfect for a 10 Minute Tuesday Project which keeps a specific organizing task simple and with a 10-minute time limit. Even the most overwhelming projects can be tackled when they are broken down into small, manageable chunks. Whether you have a wrapping paper bin that lives under your bed or a whole room devoted to wrapping, let's start right where you are. We all have 10 minutes to spare to bring a little organization to whatever space we have, magazine-worthy or not.
Set your timer for 10 minutes and do as much as you can. When 10 minutes is up, you are done and you can go back to your day. Be it wrapping paper or a paper pile, 10 minutes can make a world of difference.
In fact, five minutes into my own wrapping paper project most of the container's contents had been transferred right into the trash can. I had been hanging on to quite a few supplies recycled from other presents. I'm a huge fan of recycling and reusing, but once I realized that these items had been hanging around for several seasons I knew it was highly unlikely they would be used next Christmas. It is more important to me that I have an organized and accessible space that is a delight to use. The "cost" of storing these supplies all year on the off chance they do get used, is just too high a price for me to "pay". Quickly toss whatever you are not fond of. Keep only the supplies that you will truly use!
Don't ask me why I have baby gift bag with the Christmas supplies! As soon as I'd purged my supplies, I grabbed a few old containers from my stash to keep smaller supplies divided. My Christmas wrapping paper was back in order in no time (well in 10 minutes!).
It may not be fancy but it only took 10 minutes and it now neatly tucks back under the bed, ready for next year's festivities. So much is possible in only 10 minutes!
Maybe one day I'll find a more permanent spot for my extra long rolls that don't fit in the container, but for now they sit just fine on top of the container. We are not about perfection here.
While doing a search for over-the-top wrapping paper spaces I did find The Container Store managed to make a plastic container for wrapping paper look dazzling! And dare I say, almost magazine-worthy!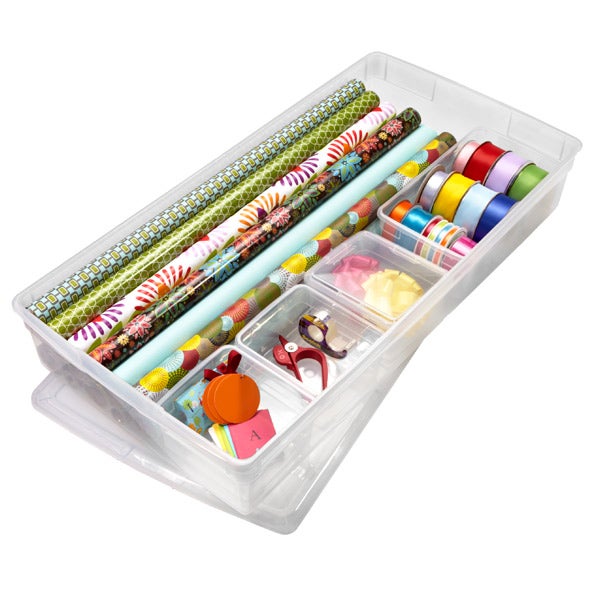 Can your wrapping paper use a little TLC? Does your wrapping paper have a permanent station or is it tucked away? Still haven't had time to put away the Christmas decorations for next year? Skip the wrapping paper and spend 10 minutes putting away those few stragglers. Do you wrap enough throughout the year to have a full  blown wrapping station?