Instead the usual 10 Minute Tuesday Organizing Challenge, I am going to share my latest easy-peasy cord control discovery. Cords are a constant pain in my side. Check out the cord mess hiding behind my husband's bedside table.
I honestly haven't figured out the best way to handle them and I am always looking for easy tricks to solve my cord woes. In my quest for the perfect method of cord control, I've found some extremes; just look at this desk by blupics I found on flickr.
As awe inspiring as that is, I tend to gravitate towards more simple ideas like this ingenious cord corral by the DIY powerhouse, Young House Love.
John and Sherry continue to flex their cord taming abilities with clever cord tricks such as keeping their computer modem and external hard drive hidden in document boxes. They cut holes in the back for ventilation and the cords.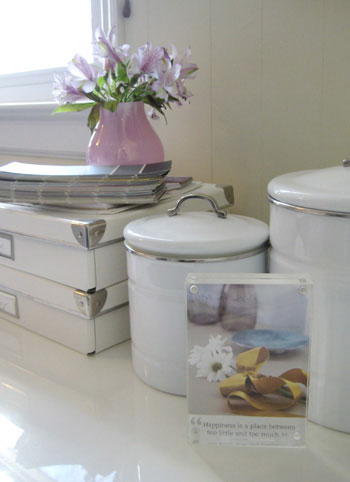 Read more of the details
here
.
Recently, I ran into more cord chaos while relocating my large desk from the bedroom to the living room. The cable internet connections live in the bedroom and so once the desk was moved the tangle of cords could no longer stay hidden.  I was left with an empty corner full of cords.
I planned on hiding everything in simple boxes yhl style, but once I decided to turn the now vacant corner into a reading nook, it seemed odd to make a pile of boxes on the ground. Plus my hubby was concerned about keeping that many cords well ventilated.
This is where the real flash of inspiration came into play, a basket! Open enough to keep things cool, but corralled enough to keep the cords out of site. Yup, I just piled everything in. I am not type A and so knowing they are jumbled out of site doesn't bother me.
It is good enough for a hidden/never used space. If you're organizing your own space, you get to decide how much time you want to invest in each area. But I'm here to also cheer you on for letting some things go when you can.  Spend your valuable time on areas you access frequently or on any project that matters most to you.
With all the cords contained and plenty of ventilation, I slid the basket under my well-loved, grandmother's chair to create my cozy new reading nook!
Now you have no idea there is a jungle of cords under my nice little reading corner (the book was staged but the coffee was not, mmm).
What are your tricks to control cords? Or do you pull your hair out, like me, when dealing with them?