I just received The Container Store Christmas Flyer in the mail.  Has anyone else seen this? There are some kooky things but also some really interesting organizing solutions.  My favorite is the GRID_IT! Organizer.  It has elastic straps placed in a grid so you can organize any combination of gadgets all in one place.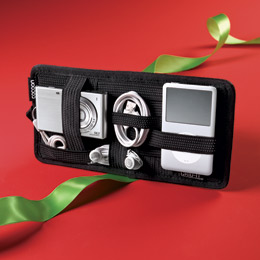 This would have been so useful on our last trip when we changed planes three times!  I was always searching for something in my bag.

My goal is to keep things in my life as simple as possible. This means I question every thing I bring into my house, though not always successfully. When I'm tempted to purchase something I look around to see if there are any household items that could be re-purposed to function in a similar fashion. I know there are some crafty people out there who could whip up similar items in under an hour; but for me the $15 price tag is worth the time and effort it would take me for to make this.  In other words, I am adding this to my Christmas list.
I also think these cord wrappers are clever.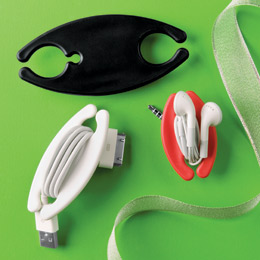 However, I spied a cheaper way to do this on one of my favorite blogs, http://www.younghouselove.com/.  With an inexpensive box of binder clips, you are ready to go.
For your hard core cords, check out the Cable Cuff® and MEGA Cuff® at Home Depot.  I haven't tried these yet but I can already think of so many uses for them.  
There were also some great gift ideas.  I love the Bobble Water Bottle that has a built-in charcoal filter on top.   This would be a perfect gift for my friend Bethany who could now have purified water wherever she goes. It would be water heaven.
Have you seen this Cyber Clean?  It is gel that pulls all the dust and dirt out of your electronics.  Think silly putty style pulling ink from a newspaper. The dirt gets caught up and the gel so it reusable. 
I love the idea of cleaning all dust in the little crevices of my key board.
I saw a smaller version of this in the automotive department at Walmart for $5.  Just think of all the crevices in your car, oh the possibilities are endless!

At first, I thought this next items was just for scrapbookers until I read the description. Cutting coupons? My tightwad mind began daydreaming about all the coupons I could quickly cut out.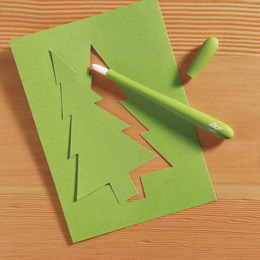 The Precision Cutter has a ceramic blade, which is not sharp to the touch.  This is perfect if you have exploring, little hands in your house. 
There are many more I could add but what did you think?  Anything you want under your tree Christmas morning?  Is there something I didn't mention that you loved, like the purse organizer? 
Check out these and so many other creative stocking stuffers at The Container Store.
All images courtesy of The Container Store

®

Inc, younghouselove.com, and cablecuff.com