I've been a Pinterest junkie lately. Oh, how did we did survive before this invention? I can't imagine planning our renovation without it.
Pinterest is the one place I organize all my ideas and plans, besides my reno binder of course. I even have a secret board for all the random stuff dealing with our renovation that no one else would care to see.  A random plumbing supply store I found on Yelp anyone? Doubtful.
But Pinterest has won the gold star for when you are asked, "What type of tile would you like for the shower?"
"Tile? Uh, let me get back to you."  Off to Pinterest I go to see what I've pinned followed by a quick search.
With all ideas pinned in one place it's easy to pick out the similarities in pins. I mean really easy. Take a look.
Source: themarionhousebook.com via Autumn on Pinterest
Source: thecolonial.tumblr.com via Autumn on Pinterest
Source: isabellastyle.com via Autumn on Pinterest
Yes, I might have a thing white. I don't like everything about the bathrooms I've pinned but one thing I love about all of them is the white tile. To me it just screams clean and refreshing.
I love all the white marble bathrooms too.  Unfortunately marble is not in the budget. All white subway is my next love.
Now, here is the problem. Can you have an all white shower? I mean all white!
Do I have to have a boarder to break up all the white? Like this one.
Ooo, love the pebbles on the floor. So beachy. Or this one with penny tiles dividing all the white.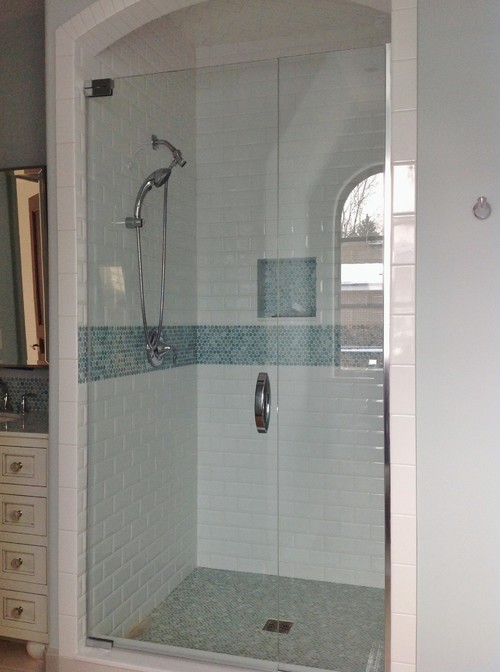 I must be honest, as much as I like the showers above they don't quite speak to me as much all white showers do.
If I must add in some dimension and depth, I like the idea of adding a white tile chair rail in the shower. I'd skip the glossy tile, and I think the chair rail will do just enough to break up the space.
Gotta love the black hexagon tile on the floor for the classic black and white look. I definitely want to have a dark floor. I love the idea of a dark gray slate-ish tile with a nice texture or dark hexagon tile.
Okay, whew, all that to say…do you think an all white subway tile shower/bath is too plain? Do I need some color to break it up? Am I crazy? This seems like such a big long term decision. We are not planning on doing this again anytime soon.
Drum roll please…what do you think?
Don't worry, we will be back to our regular scheduled organizing post next week.