We might be one of the few families who does not have a flat screen TV. We are still rockin' the old school TV in a cabinet. We got both the TV and cabinet as hand-me-downs and it is hard to beat free.
I shared all about staining the cabinet a darker shade from the honey brown it was originally. It has served us well but I am starting to feel the itch to upgrade. Plus the TV is at least 20 years old and its lifespan might be ending soon.
After searching Craigslist off and on for about 6 months, I was getting discouraged. There didn't seem to be much out there under $300 that wasn't just pressed plywood. I didn't want to pay that much plus put in all the effort and time to refinish it. I am a big fan of painted furniture.
I looked elsewhere and even consider this beauty from Crate & Barrel. My sister-in-law snagged one when it was on sale and loves it.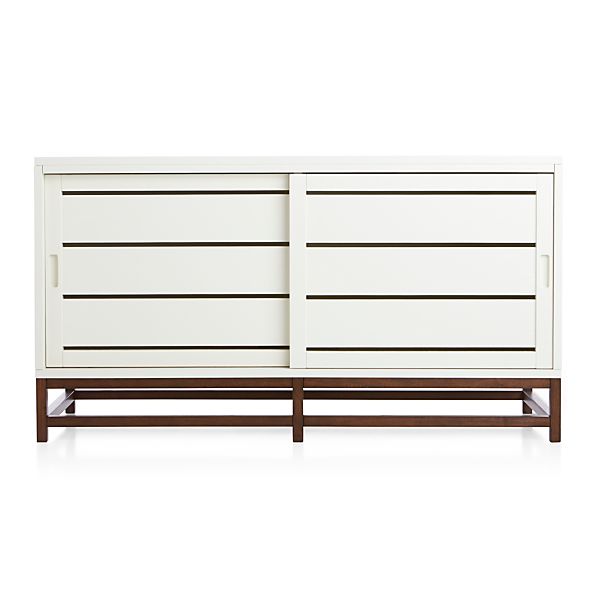 But with the longer 60 inch version topping out at $599 (which is what we wanted) it really wasn't an option. Back to craigslist.
Then I found this solid wood credenza for $140!
The seller was a lovely lady who was moving into a retirement home and passionately shared its life story and I reveled in every detail. She even broke out the family tree before our visit was up!  It is from the 1930's and she remembers her mother being so excited when she purchased it. Call me crazy but it is like that excitement was being passed to me.
Even as well-loved as it was, it still shows signs of its age and is begging to be repainted, but I want to be sure I do it justice.
I found this color combo chart from Chairish which is like a Craigslist for the real authentic vintage furniture but a lot easier to browse. I am loving the first color combo. The credenza painted bright peacock blue is really speaking to me. (Click on the image to open the pdf).
I love that bright pop of color yet it still calming enough to go with the other cool blues, grays, and greens I have in my living room. Be careful on Chairish because you can quickly lose track of time. I already found a few accent chairs that will go nicely with my cool and calm room like these.
Before I get carried away, here are a few blues I am loving for my vintage credenza, all Benjamin Moore paints.
1 Blue Danube | 2 Downpour Blue | 3 Van Deusen Blue | 4 Paddington Blue | 5 Oasis Blue | 6 Polo Blue
I am leaning towards #1-3 but I might just get a tester of all of them. Which blue do you like? Do you have a  favorite color combination? Are you a fan of painted furniture or do you like all natural wood tones?